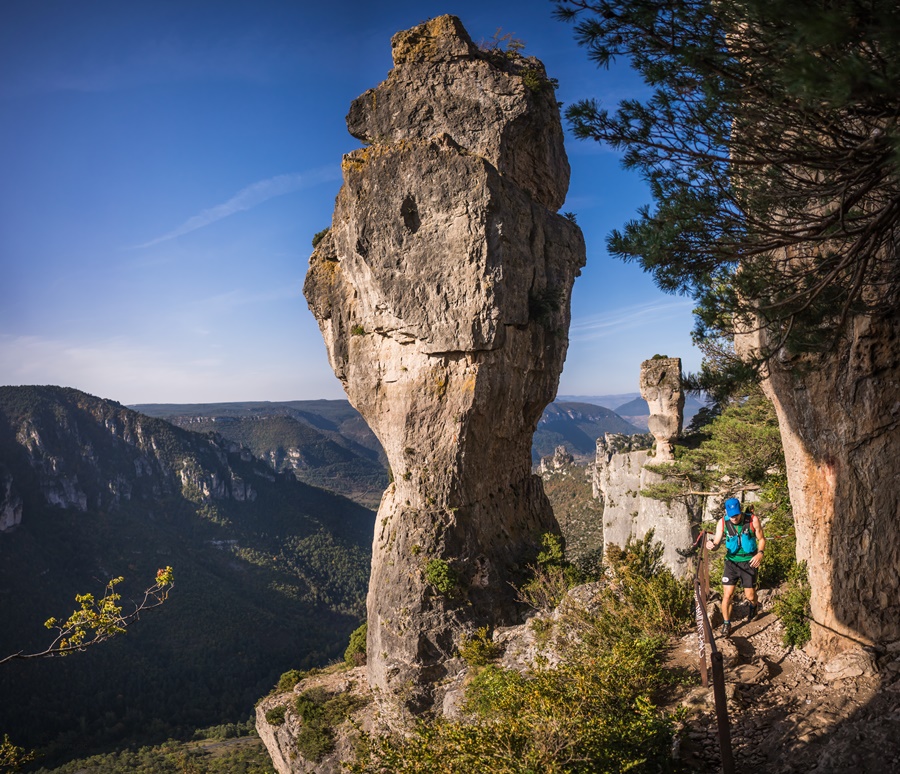 COURSE DESCRIPTION
Millau and the Black Causse are a fantastic playground for trail running, a very special area of freedoom to run a great adventure.
Grand Trail des Templiers is the great feast of trail running in France. This event give birth to this great wave of trailrunning in France. Every year, 13000 runners are registered for the 3-days race in Millau, the city that is considered the capital of outdoor sports in France
After a magical start in the night, runners are going from surprises to surprises, with very few roads, a good mix between large and single-track trails.
All places are so iconic. Secrets ravines, olds castles, ruined villages, towns where you are greeted with the sound of the accordion, The Riou Sec, Roques Altes, the beautiful village of Montméjean, the village of Roque Ste Marguerite with atmosphere like « Tour de France ».
This running event is unique with the gorges of the Dourbie, the cliffs of the Larzac, olds farms and caves like the Owl Cave.
Don't Forget…!!!
1. Familiarity : Knowledge of trail eunning offers both physical and mental advantages during the Run. Participants should make a reasonable effort to experiment as much as possible trail running before Run Day. Particular attention should be given to those sections that you expect to run in the dark, when your mental and physical energy may be lagging.
2. Night : each runner must carry aled flashlights. If your lights fail, wait for another runner with a light. Do not try to find your way in the dark. To avoird this problem, don't forget extra batteries.
3. Weather conditions : temperatures during the Run can range from 0 degrees to above 20 degrees celcius. Runners have to be prepared for both extremes and to carry extra clothes. Weather conditions are unpredictable and can be quickly subject to change.
4. Trail markings : Trail markings will consist of white and red surveyor's tape tied to branches. In addition, 400 Glo-Sticks will be place along the first 22 km to brighten the trail at night.
5. Drops : If you have to drop out of the Run at a point where your crew is unavailable, we will make every reasonable effort to get you to the finish or to the nearest major checkpoint that is still in operation, particularly if you are in need of medical attention. In non-emergency situations, you may have to wait time before being evacuated.  Our principal responsibility is to put on a Run, not to run a shuttle service for non-finishers, so please be patient. Aid stations will close when the footed sweeps or drag riders arrive.
6.Trail Etiquette : Please be courteous to other runners. If you wish to pass another runner, ask for "trail right" or "trail left" before attempting to pass. Slower runners must yield the trail to runners wishing to pass.
Templiers Trail Running Expo :
More than 120 exhibitors featuring the newest designs in trail running footwear, apparel and accessories, as well as the latest developments in sports, fitness and nutrition will be in attendance at the Templiers Trail Running Expo.
Participant Packet Pick-Up :
. Packet Pick-Up is located at the Templiers Trail Running Expo – Avenue de Millau Plage
(1,5 km from de center of Millau – see the map above)
. From thursday on saturday : from 2 p.m. to 7 p.m.
. Bib number and safety pins
. ChronoTrack timing device
. Special Buff
. The map of the race
. Participant bag